Coach Phillips Honored with Gatorade Coaching Excellence Award
July 9, 2019
Congratulations to Coach Sue Phillips '86 who was recently honored with the Gatorade Coaching Excellence Award as one of the best coaches in the nation. Watch a video about the sisterhood she creates on campus. Congratulations, coach!
---
Monarchs Named All-Americans
June 19, 2019
Congratulations to senior Tyler Wesson, junior Stephanie Shao, and sophomores Adam Wesson and Remi Edvalson, who were named All-American divers by the National Interscholastic Swimming Coaches Association last week. This week, Remi was also named a National Champion by NISCA. Earlier this school year, Remi and Adam won the WCAL and CCS diving championships. Several student athletes advanced to state, where Remi won second place and Adam placed fifth. Congratulations, Monarchs!
---
Monarch Wins Award at UC Davis Teen Biotech Challenge
May 28, 2019
Congratulations to junior Shevali Kadakia, who took first place at the University of California, Davis' Teen Biotech Challenge earlier this month. Her project was part of the computational biology and genomics category of the competition. Great job, Shevali!
---
Softball Captures CCS Championship
May 23, 2019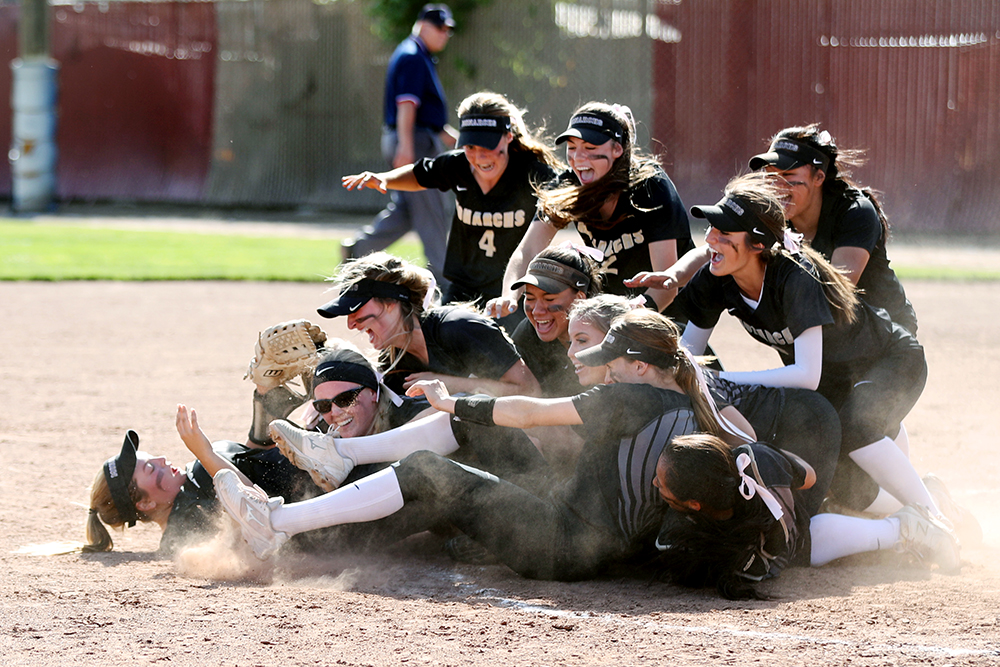 Congratulations to the softball team which won a CCS Championship just hours after graduation this weekend. The victory was especially sweet for the team's four graduating seniors. The title marks the program's 16th sectional championship. Read more in The Mercury News. Great job, Monarchs!
---
Monarch Qualifies for Intel International Science and Engineering Fair
May 6, 2019
Sophomore Akhilesh Balasingam took first place in his category of competition at the California Science and Engineering Fair last week. Akhilesh's project was named the best high school project of the year, earning him a $5,000 award. He qualified to compete in Intel's International Science and Engineering Fair, which will take place later this month. Great job, Akhilesh!
---
Monarch Recognized with U.S. Figure Skating Award
April 18, 2019
Congratulations to senior Olivia Hartnett, who was honored with a gold level U.S. Figure Skating Graduating Seniors Award. The honor recognizes the hard work of student athletes who participate in figure skating throughout high school. Selection for this award speaks to a student athlete's commitment to succeeding in athletic and academic endeavors. Great job, Olivia!
---
Monarchs Win First Place at Synopsys Science Fair
April 17, 2019
Last month, students presented independent research at the Synopsys Science Fair. A total of 12 Monarchs received awards, including sophomores Akhilesh Balasingam and Aalok Patwa, who received first place prizes in their categories of competition. Akhilesh was invited to participate in the California State Science Fair at the end of this month.
---
Yearbook Wins National Program of Excellence Award
April 17, 2019
Congratulations to the Excalibur yearbook staff, which received the National Yearbook Program of Excellence Award for the second year in a row. The award recognizes the team for creating a meaningful book for peers. The yearbook staff also recently received the grand prize at the Josten's Bay Area Yearbook Seminar, an honor that recognizes excellence in theme creation and overall yearbook planning.
---
Monarchs Earn Spots in Prestigious Mathematics Exam
April 17, 2019
Congratulations to the seven Monarchs who participated in the American Mathematics Contest and scored high enough to move on to the prestigious, three-hour long American Invitational Mathematics Exam. Seniors Jubal John Peter and Jaron Shen scored in the top 5 percent of test takers in the nation, while freshman Riley Kong and sophomore Rachel Ryu scored in the top 2.5 percent in the nation. A special congratulations to junior Bharat Narayanasamy, who scored in the top 1 percent in the nation.
---
Mitty Advocacy Project Participates in Catholic Youth Advocacy Day
April 17, 2019
A total of 42 students from the Mitty Advocacy Project traveled to Sacramento to participate in Catholic Youth Advocacy Day in early April. These Monarchs met with 10 state lawmakers to advocate for new laws and policies. They also presented workshops on the power of youth advocacy to students from Catholic schools across the state
---