Monarch Joins Great Britain's U19 Team
August 16, 2018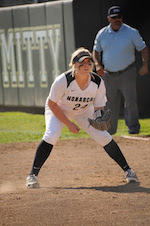 Congratulations to Monarch Hannah Edwards, who was part of Great Britain's U19 and U22 softball teams this summer. This Monarch is a dual citizen of Great Britain and the United States and was a key contributor on the mound and the plate. Congratulations, Hannah!
---
Monarch Selected to All-Star World Team for Basketball
August 6, 2018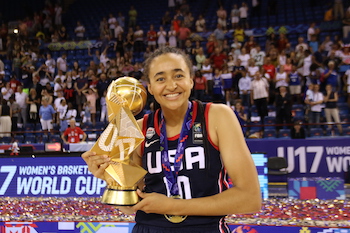 Congratulations to senior Haley Jones, who won the FIBA World Cup with the USA U17 Team in July. Haley was also named to the All-Star World Team, an honor that recognizes her as one of the best high school basketball players in the world.
---
AMHS Named State School of the Year
July 16, 2018
Cal-Hi Sports recognized the Monarchs for being the best school in the state for women's sports this month. The media group highlighted the school's state championship in women's volleyball and national championship in women's basketball. Cal-Hi
Spor
ts also praised the Monarchs for their excellent soccer and softball teams. Read more
here.
Congratulations, Monarchs!
---
Monarch Recognized as Leader in Washington
July 11, 2018
Congratulations to rising senior Ricardo Cerrato who participated in the Congressional Hispanic Caucus Institute's R2L NextGen Program this summer. He was recognized for his commitment to leadership, interest in civil engagement, and desire to give back to his community. In June, he participated in a 5-day program in Washington, D.C. where he walked the halls of Congress, visited historic monuments, and met with influential Latino leaders who are making a difference in their communities. Congratulations, Ricardo!
---
Monarch Named All-American
July 11, 2018
Congratulations to Hailey Smith '18, who was named a United Soccer Coaches All-American this summer. Great job, Hailey!
---
Monarch Named MLB All-Star
July 10, 2018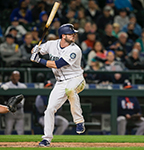 Congratulations to Monarch Mitch Haniger '09, who was named a Major League Baseball All-Star in July.
---
Swimmers and Divers Named All-Americans
July 9, 2018
Congratulations to the nine swimmers and divers who were named All-Americans this year. Rising junior Kylie Juan, rising senior Sophia Sebastian, and recent graduates Daniel Marella, Sophia Harrison, and Cathy Teng were named All-Americans for swimming in July. They join four Monarch divers who were named All-Americans last month, including rising sophomores Adam Wesson and
Remi
Edvalson
, rising junior Stephanie
Shao
, and rising senior Tyler Wesson. Great job, Monarchs!
---
Yearbook Staff Wins National Award
June 29, 2018
Congratulations to the AMHS Yearbook Staff for being named a National Yearbook Program of Excellence. The award recognizes the yearbook adviser and staff for being part of the top five percent of programs in the nation.
---
Monarch Wins Prestigious Comcast Scholarship
June 14, 2018
Congratulations to Monarch Danning Yu '18 who was recognized for his achievements inside and outside of the classroom this week with a prestigious scholarship from Comcast. He was recognized for his community service, academic performance, and leadership. Danning, who will study engineering at the University of California, Los Angeles in the fall, received a $1,000 Leaders and Achievers Scholarship plus a $10,000 Comcast Founders Scholarship. Congratulations, Danning!
---
Monarchs Participate in Immersion Trips
June 8, 2018
This summer, more than 200 students will put their faith into action by serving others across the nation and world through school-sponsored immersion trips in May, June, and July. These Monarchs will travel through California, Oregon, Arizona, and the Appalachian Mountains of West Virginia, as well as overseas to India, Costa Rica, and South Africa to do service work. Follow Campus Ministry's Twitter account to see updates from each trip.
---