Monarchs Advocate for New Laws to Benefit Farmworkers
November 5, 2019
Members of the Mitty Advocacy Project have been advocating for legislative changes to help farmworkers. Recently, they fought to ban the sale of a pesticide linked to brain damage and health defects in children, and they won. They also fought to pass the Farmworker Housing Act of 2019, which provides safe, affordable and environmentally-sound housing to farmworkers. They won that one, too. Thanks for advocating on behalf of this vulnerable community.
---
Monarchs Win Award for Self-Driving Robot
November 5, 2019
Congratulations to the robotics team, which was recognized with the Autonomous Action Award at the Calgames FIRST Robotics Competition last month. For the first time in school history, the team created a self-driving robot that uses computer vision to autonomously navigate competition challenges.
---
Speech and Debate Wins Wildcards to State Qualifying Tournaments
November 5, 2019
Over the past month, members of the Mitty Speech and Debate team have won 38 wildcards to the state qualifying tournaments next spring. A special congratulations to the squad for winning first place in overall sweepstakes at the University of the Pacific Invitational in mid-October.
---
Monarchs Recognized at Diocesan Awards Banquet
November 5, 2019
Last month, seniors Danielle Judilla and Mia Apodaca were honored for their service to the community during the Diocese of San Jose's fifth annual Saints in the City awards banquet. These Monarchs were honored for carrying the torch of discipleship with fearless faith, enduring hope, and bountiful charity. Thank you for being such great representatives of the school!
---
Monarch Develops Water Conservation System
October 2, 2019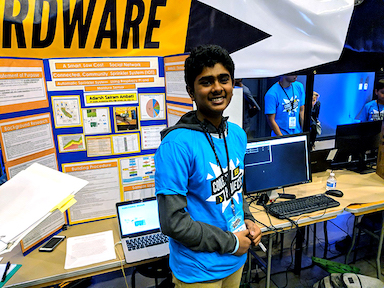 Sophomore Adarsh Ambati developed a system that can be used by entire neighborhoods to save water at the cost of only pennies per day. His project won the hardware category in the Coolest Projects USA competition and was showcased in the July issue of MagPi, a tech magazine. Adarsh is sharing his project with the San Jose City Council to see if it can be applied to green spaces at public parks and schools. Read more here.
---
Seniors Recognized as National Scholars
October 2, 2019
More than 20 Monarchs were recognized as national scholars last month. Seniors Ignacio Blanc Zoco, Julia Fong, Ana Gamboa-Gonzalez, Alessia Mandelli, and Ariel Rogoff were recognized as National Hispanic Recognition Scholars by College Board for their outstanding performance on the PSAT during their junior year. In addition to that, 16 other seniors were designated semifinalists in the 2020 National Merit Scholarship Competition based on their performance on the same test. These Monarchs were selected from 1.5 million entrants and represent less than 1% of all seniors in the country. Great job, Monarchs!
---
Monarchs 'Get Out the Vote'
October 2, 2019
This September, students celebrated National Voter Registration Day by holding a third annual voter registration drive on campus. Currently, the high school holds the record for being the campus that has registered the most students to vote in Santa Clara County.
---
Speech and Debate Team Named Champions at Long Beach Invitational
October 2, 2019
The speech and debate team placed first for the third year in a row at the Long Beach Invitational. This year, the team won the first place debate sweepstakes award for the first time in the program's history. Congratulations to senior Joanne Park, who advanced to the final round of her event, and to senior Kritika Yerrapotu and juniors Milo Mee and Olivia Cookmanfor placing first in their individual events.
---
Students Speak Up at Youth Climate Strike
October 2, 2019
Monarchs demanded action on the climate crisis from downtown San Jose as part of the international Youth Climate Strike on Friday, September 20th. Junior Helen Deng helped facilitate the planning of the march and rally. Seniors Ashir Raza and Jason Chen, who are the Mitty Advocacy Project's environmental team leads, were among the keynote speakers along with Mayor Sam Liccardo, state officials, and other students activists from the area. Thank you to these Monarchs for speaking up to protect the planet!
---
Coach Phillips Honored with Gatorade Coaching Excellence Award
July 9, 2019
Congratulations to Coach Sue Phillips '86 who was recently honored with the Gatorade Coaching Excellence Award as one of the best coaches in the nation. Watch a video about the sisterhood she creates on campus. Congratulations, coach!
---