Monarch Honored at Saints in the City Awards Banquet
December 5, 2018
Congratulations to senior Matthew Brennan, who was honored by the Diocese of San Jose at the annual Saints in the City Awards Banquet for carrying the torch of discipleship with fearless faith, enduring hope, and bountiful charity. Matthew was recognized for his incredible dedication to service and leadership, which stems from his faith.
---
Speech and Debate Team Breaks School Record
December 5, 2018
So far, the Speech and Debate team has earned 84 wildcards, or entries to the state qualification tournaments, more than double the number captured by any other school in the league and a new record for the program. A special shout-out to seniors Shanaya Sales and Conor Sherry, who were named tournament champions in individual events at The Glenbrooks Invitational in Chicago last month. Out of 241 schools from across the nation, the Monarchs took second place by one point. Congratulations, Monarchs!
---
Archbishop Mitty Advocacy Project Travels to Washington DC
November 20, 2018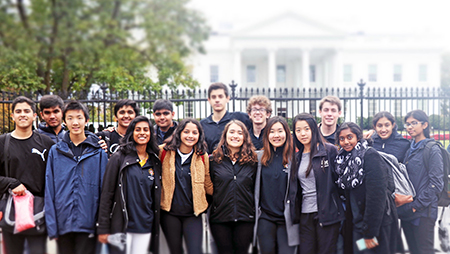 Students participating in the Archbishop Mitty Advocacy Project traveled to Washington D.C. to participate in the annual Catholic Social Justice conference this month. While in the nation's capital, Monarchs shared proposals for new legislation tackling marine pollution, gun safety, and mental health. Last month, students also met with Assemblyman Evan Low in his district office to share their social justice concerns and press for action on behalf of those suffering from social inequities in California. Great job, Monarchs!
---
Santa Clara Optimist Club Recognizes Monarchs
November 20, 2018
This year, the Santa Clara Optimist Club recognized seniors Yusra Arub and Devin Makhni for their commitment to service on campus and in the local community. Both Devin and Yusra have completed more than 175 hours of service and are actively involved in numerous campus clubs, organizations, and activities. Congratulations, Monarchs!
---
Speech and Debate Team Celebrates Successful Month
November 20, 2018
Congratulations to the Speech and Debate team for a very successful month with seven tournaments that resulted in 49 first place finishes! The team was named tournament champions at the University of the Pacific invitational, where sophomore Isabella Nicoletti and junior Emma Sims placed first in both of their speech events. Lastly, a special congratulations to seniors Darya Kaviani and Roshni Varma for being named Public Forum debate tournament champions out of more than 100 teams at the Presentation Invitational last month. Way to go Monarchs!
---
Men's Water Polo Wins First CCS Championship
November 10, 2018
Congratulations to the men's water polo team, which made Monarch history this month by winning the program's first CCS Championship. Way to go, Monarchs!
---
Monarch Named to San Jose Sports Hall of Fame
November 9, 2018
Congratulations to senior Haley Jones, who was named the Female High School Player of the Year by the San Jose Sports Hall of Fame. She will be honored in a special event at the SAP Center this month. Great job, Haley!
---
AMHS Pairs with Stanford for Research
October 17, 2018
Scientists at Stanford University's School of Medicine are keeping a close eye on Monarch student-athletes. AMHS is one of just three high schools partnering with researchers who will study the impact of concussions on football players at the high school, college, and NFL levels to better understand how to prevent risky collisions. Read more here.
---
Robotics Team Wins Regional Tournament
October 8, 2018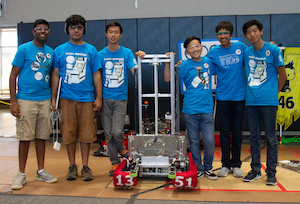 Congratulations to the Robotics Team, which was part of the winning alliance of teams that emerged champions of the Western Regional Robotics Forum's CalGames in early October. The competition gives students from across Northern California a chance to learn about robotics design, development, and programming. The Monarchs competed against 36 teams for the top prize.
---
Students Initiate Voter Registration
October 8, 2018
In late-September, students participating in the Interact Club and Mitty Advocacy Project organized a voter registration drive on campus. These Monarchs ran tables where students could register to vote or pre-registrar so that they would be able to vote as soon as they turn 18 years old. Nice work, Monarchs!
---