Soccer, Basketball Teams Win CCS Open Division Championships
February 23, 2019
In the span of four hours, the Monarchs took home CCS Open Division Championships in women's soccer and basketball during back-to-back games held at Santa Clara University on Friday. The women's basketball team beat Pinewood, 72-51, securing a fourth consecutive CCS title. The women's soccer team finished their season with a 1-0 victory over St. Ignatius. Congratulations Monarchs!
---
Basketball Teams Seize WCAL Championships
February 12, 2019
Congratulations to the men's and women's basketball teams, which earned WCAL Championships this month. The men's basketball team had a 55-56 victory over Serra last Friday and seized the league title. In addition to this, the women's basketball team took home the WCAL Championship with a perfect 10-0 league record. Great job, Monarchs!
---
Students Participate in Enterprise Leadership Conference
February 12, 2019
Congratulations to juniors Hugo Genevriere, Ana Gamboa-Gonzalez, and Michael Mosko who were among 96 students selected from high schools across San Jose to participate in the Enterprise Leadership Conference next month. The three-day conference focuses on the leadership skills required to start a business.
---
Archbishop Mitty Advocacy Project Promotes Justice
February 12, 2019
Members of the Archbishop Mitty Advocacy Project participated in a trip to the San Francisco-based Delancey Street Foundation, one of the nation's most effective re-entry programs for former prison inmates, as part of research for advocacy efforts that call for education and rehabilitation programs for the justice system. A few weeks later, Monarchs joined more than 180 students from across the Bay Area for an annual social justice conference, where they presented workshops and advocated for a more just society.
---
Monarch Breaks School Record, Named to All-American Games
January 25, 2019
Congratulations to women's basketball player and senior Haley Jones, who made school history last week by reaching 1,888 career points, breaking the all-time scoring record previously held by Kerri (Walsh '96) Jennings, a Monarch who is now a three-time Olympic gold medalist. Earlier this month, Haley was also selected to the McDonald's All-American women's basketball team. Varsity Coach Sue Phillips '86 and assistant coaches Tami Monson '97 and Joe Guerra have also been selected to participate in the All-American games as coaches. See the full roster
here
. The contest is scheduled to tip off on Wednesday, March 28th, in Atlanta, Georgia. Congratulations!
---
Speech and Debate Team Wins Invitational
January 24, 2019
Congratulations to the speech and debate team, which won the Martin Luther King Jr. Invitational this weekend for the fourth year in a row. The Monarchs were selected for the first place award out of 94 schools from across the country. Great job, Monarchs!
---
Monarch Honored at Saints in the City Awards Banquet
December 5, 2018
Congratulations to senior Matthew Brennan, who was honored by the Diocese of San Jose at the annual Saints in the City Awards Banquet for carrying the torch of discipleship with fearless faith, enduring hope, and bountiful charity. Matthew was recognized for his incredible dedication to service and leadership, which stems from his faith.
---
Archbishop Mitty Advocacy Project Travels to Washington DC
November 20, 2018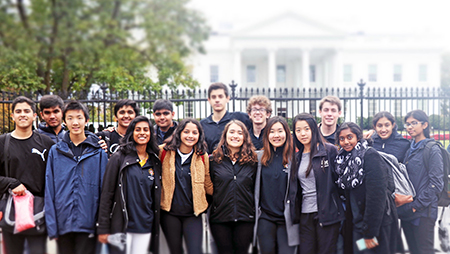 Students participating in the Archbishop Mitty Advocacy Project traveled to Washington D.C. to participate in the annual Catholic Social Justice conference this month. While in the nation's capital, Monarchs shared proposals for new legislation tackling marine pollution, gun safety, and mental health. Last month, students also met with Assemblyman Evan Low in his district office to share their social justice concerns and press for action on behalf of those suffering from social inequities in California. Great job, Monarchs!
---
Santa Clara Optimist Club Recognizes Monarchs
November 20, 2018
This year, the Santa Clara Optimist Club recognized seniors Yusra Arub and Devin Makhni for their commitment to service on campus and in the local community. Both Devin and Yusra have completed more than 175 hours of service and are actively involved in numerous campus clubs, organizations, and activities. Congratulations, Monarchs!
---
Speech and Debate Team Celebrates Successful Month
November 20, 2018
Congratulations to the Speech and Debate team for a very successful month with seven tournaments that resulted in 49 first place finishes! The team was named tournament champions at the University of the Pacific invitational, where sophomore Isabella Nicoletti and junior Emma Sims placed first in both of their speech events. Lastly, a special congratulations to seniors Darya Kaviani and Roshni Varma for being named Public Forum debate tournament champions out of more than 100 teams at the Presentation Invitational last month. Way to go Monarchs!
---