Jazz in the AM, Kind of Blue Participate in Jazz Festival
February 2, 2018
Kind of Blue and Jazz in the AM represented the school with Monarch pride at the Folsom Jazz Festival in January. Kind of Blue received a command performance from the judges. A special congratulations to seniors Liam Tecson and Mariah Stanelle; juniors Alyssa Perez, Lucas Tecson, and Jin-Hee Lee; and sophomores James Vaughan, Reese Agu, and Noah Robles, who received individual solo awards.
---
Monarchs Selected for Leadership Conference
February 2, 2018
Congratulations to juniors Riya Dhoopar, Andrew Lopez, and Katherine Phan for being selected to participate in the Enterprise Leadership Conference, a three-day, business leadership conference sponsored by the San Jose Rotary Club. These three Monarchs will participate in the conference next month.
---
Speech and Debate Team Claims Third Consecutive Title
February 2, 2018
Congratulations to the Archbishop Mitty Speech and Debate team for taking first place out of 80 schools at the national Martin Luther King Invitational earlier this month. This is the third year in the row that the Monarchs have claimed the prestigious title. Special congratulations to individual champions sophomore Kritika Yerrapotu, and juniors Malavika Ramarao and Conor Sherry. This year, the team has earned a record-breaking 92 wildcards to the State Qualifying Tournament. Great job, Monarchs!
---
Monarch Named Finalist for 'Junior Nobel Prizes'
January 24, 2018
Congratulations to senior Teja Veeramacheneni, who has been named a finalist for the Regeneron Science Talent Search, a prestigious national contest sponsored by Intel that is sometimes called the Junior Nobel Prizes. Finalists will travel to Washington, D.C. in March, where they will compete for prizes ranging from $40,000 to $250,000. All participants will receive at least $25,000. Teja developed a novel PET-MRI co-registration algorithm that is able to display co-registered brain scans in real time 3D. Read more here.
---
Monarch Selected for International Leadership Summit
January 9, 2018
Congratulations to junior Vedya Konda, who was awarded a scholarship to attend Education First's 2018 Global Student Leadership Summit. Vedya will be traveling to Berlin this summer to participate in this conference, where she will examine how society can harness technology's power for good. As part of this summit, Vedya will also compete against other students for a chance to have her work featured in Stockholm's Nobel Museum. Great job, Vedya!
---
Monarch Wins Comcast Scholarship
January 9, 2018
Congratulations to senior Danning Yu, who was selected as the recipient of a prestigious Comcast Leaders and Achievers Award from the Comcast Foundation. The scholarship recognizes high school seniors from Comcast communities that demonstrate a commitment to academics, leadership, and community service. Only one student per school can be nominated for this honor. Congratulations, Danning!
---
Women's Basketball Takes Title at Nike Tournament of Champions
December 24, 2017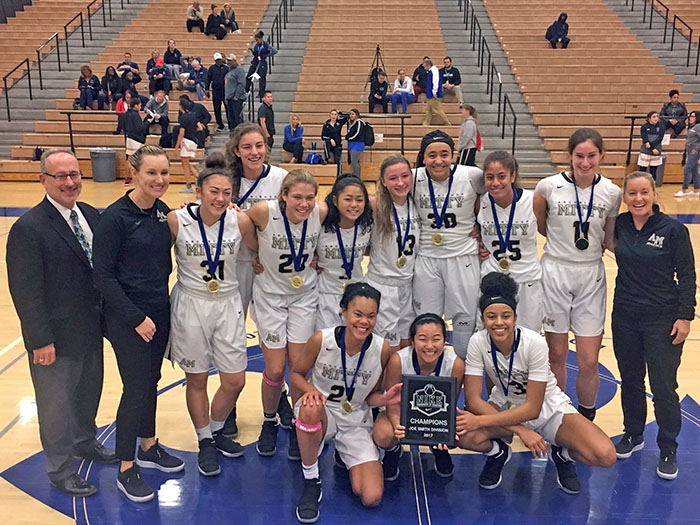 Congratulations to the women's basketball team for being named the 2017 Nike TOC Champions! Read more here.
---
Women's Volleyball Team Named State Champions
December 13, 2017
Congratulations to the women's volleyball team for winning the CIF State Open Division Championship. Read about the game in
The Mercury News
. Great job, Monarchs!
---
Five Teams Named CCS Scholastic Champions
December 3, 2017
Congratulations to each of the following varsity teams for being named CCS Fall Scholastic Championship Teams: football, field hockey, men's water polo, women's golf, and women's volleyball. Each year, the CCS recognizes the five varsity teams with the highest collective grade point average of all teams competing in that sport during the fall season. Congratulations, Monarchs!
---
Monarchs Advocate for Social Justice in Washington, D.C.
December 3, 2017
A dozen members of the Archbishop Mitty Advocacy Program traveled to Washington, D.C. this month, where they participated in a social justice conference and advocated for the nation's vulnerable. Students met with senators and congressional representatives on Capitol Hill to advocate for immigration reform, criminal justice reform, and legislation that combats human trafficking. Great job, Monarchs!
---