Monarchs Named to National Hispanic Recognition Program
October 1, 2017
More than a dozen Monarchs have been named scholars in the National Hispanic Recognition Program. Congratulations to these Monarchs, who were selected as the top 5,000 students in a pool of more than a quarter of a million applicants: Louis Coffin, Olivia Cunningham, Jim Falcone, Sebastian Gerate, Ella Garfunkel, Steven Howell, Ashton Jimenez, Supna Kapoor, Jolie Leung, Elizabeth Mau, Olivia Monroy, Lucy Nino, Julia Queiroz, Samantha Townzen, and Maria Elena Yero. Congratulations, Monarchs!
---
Monarchs Named National Merit Scholars
October 1, 2017
Congratulations to the Monarchs, who were designated as semifinalists in the National Merit Scholarship Competition this month. Out of 1.5 million entrants, these seniors were named among the top 1 percent in the nation and qualify to continue in competition for National Merit Scholarships this school year: Thomas Butler, Nathalie Co, Emily Genevriere, Derek Jones, William Ju, Andrew Kang, Amelia Kinsella, Aleksander Kozminski, Brenton Law, Daisy Lee, Nichole Lim, Danielle Matlock, Elizabeth Mau, Gabriel Meza, Liam Olsen, Druv Pai, Timothy Simka, Teja Veeramacheneni, and Rithvik Vobbilisetty. Great job, Monarchs!
---
Swim Team Ranked Among Top in Nation
September 10, 2017
Congratulations to the varsity women's swim team, which was recently named one of the top ten programs in the nation. This prestigious ranking was announced in the September edition of Swimming World Magazine. Great job, Monarchs!
---
AMHS Wins National Youth Theater Awards
September 10, 2017
Congratulations to the AMHS Performing Arts Department for winning eight National Youth Theater awards for shows performed last school year. Les Miserables was awarded outstanding musical, the cast of Peter and the Starcatcher won best ensemble, and senior Jack Bloome won best supporting actor for his performance as Javert in Les Miserables. Congratulations, Monarchs!
---
AMHS Hosts Romero, I AM Camps
August 15, 2017
This summer, AMHS hosted the Romero Leadership Institute and the I AM Camp, which give high-achieving Latino and African American students a chance to deepen their cultural identity and explore opportunities in higher education. A huge thank you to the Monarch student-leaders who helped make these programs possible. Thanks, Monarchs!
---
Monarch to Star in Touring Broadway Show
July 10, 2017
Congratulations to Myha'la Herrold '14 on her upcoming debut as Nabulungi in the national tour of "The Book of Mormon." Catch her on stage when the show comes to San Jose this summer from July 11-23. Read more about this Monarch in The Mercury News.
---
Speech and Debate Team Ranked Top 10 in Nation
June 27, 2017
Congratulations to the Archbishop Mitty Speech and Debate Team for being named one of the top 10 teams in the nation during the National Speech and Debate Tournament in Alabama this past weekend.
---
USA Today Selects Monarch for Top Team
June 27, 2017
Congratulations to Monarch Matt Llyod '17, who was named to the ALL-USA First Team for men's golf. The teams were selected based on performance and level of competition. Congratulations, Matt!
---
Les Miserables Wins Rita Moreno Award
June 3, 2017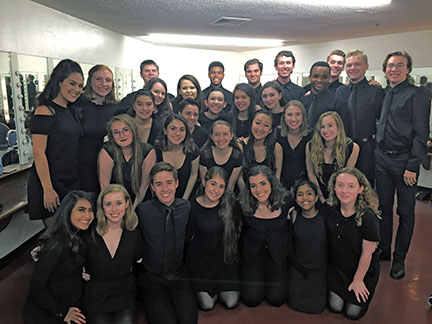 Congratulations to the cast, crew, and orchestra of Les Miserables for winning the Fan Favorite award at the Rita Moreno Awards ceremony last month! The honor is one of several offered by the National High School Musical Theatre Awards program, which was established in 2009 to recognize excellent student performances and to elevate the importance of theater in schools.
---
Men's Golf Team Wins State Championship
May 31, 2017
Congratulations to the men's golf team for winning the first state championship in the history of the program this week! In mid-May, the team won the program's first CCS championship. They followed that by coming in third at the NorCal Championships last week, earning a spot in the state finals. Earlier in the season, the team also took home the Ed Ravenscroft WCAL Championship Tournament. Congratulations, Monarchs!
---