Monarch Named Davidson Fellow
September 9, 2021
Senior Adarsh Ambati has been selected as a 2021 Davidson Fellow in recognition of impressive achievements in the field of engineering. Adarsh developed a low-cost product that monitors vital signs making it possible for people to monitor their health at home while self quarantining with COVID-19. Adarsh will receive a $10,000 scholarship for his work.
---
Monarch Competes in National Equestrian Championships
September 9, 2021
Sophomore Sophia Beck recently competed in the US Equestrian Federation National Championships, where she placed fourth overall for her age group and second in her individual test. The US Dressage Team, which took home the silver medal at the Olympic Games in Tokyo this summer, was there on the sidelines watching her compete.
---
Monarch Nominated to Largest Student Film Festival in the World
September 9, 2021
Recently, Joon Heo earned an official nomination to the All- American High School Film Festival for his animation "Quarantine Dreams." The All American High School Film Festival is the largest student film festival in the world and will take place in early October. Good luck the rest of the way, Joon!
---
Monarch Named All-American by MaxPreps
September 9, 2021
Congratulations to Jarren Advincula who was named a sophomore All American by MaxPreps over the summer for his contributions to the baseball team last year, which advanced to the CCS championship game. As a sophomore, Jarren has a .441 batting average with 30 runs and 19 RBI's. We look forward to watching him compete again this spring.
---
Monarch Leads U16 Team USA to FIBA Americas Gold Medal
September 3, 2021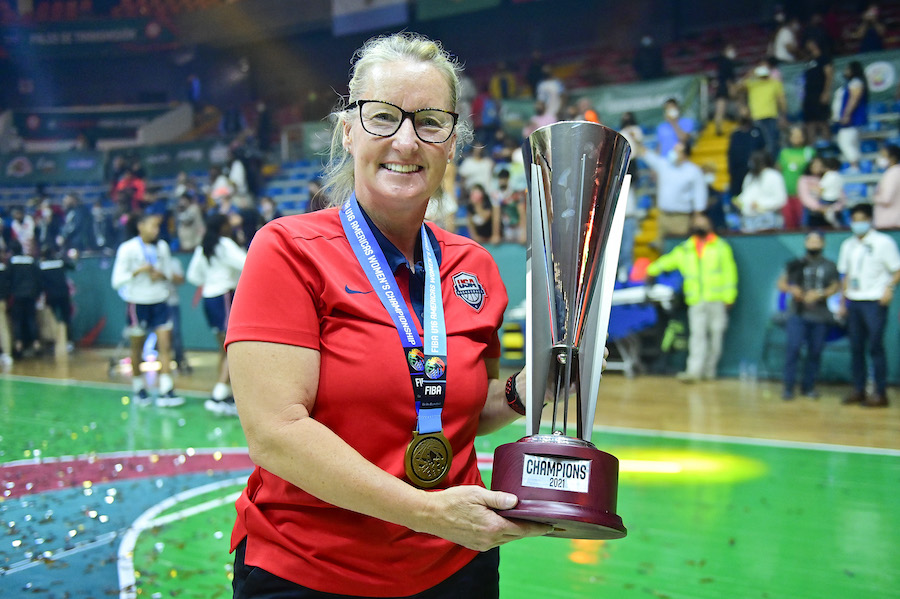 Monarch Sue Phillips, the head coach of our women's basketball team, led Team USA in winning the 2021 FIBA U16 Americas Championship last month and took home her third gold medal. In the final weeks of summer, she led Team USA in defeating teams from five countries — Chile, Mexico, Argentina, Costa Rica, and Canada — in seven days of games. Congratulations, Coach Phillips!
---
Volleyball Team Wins Spikefest Tournament
August 30, 2021
After more than a year without a normal competition season, the women's volleyball team was back on the court in August, where the Monarchs immediately won their first tournament title: the Spikefest Championship. The five-game tournament represents the first time the newly formed team — including seven seniors, six juniors, and two sophomores— has competed this fall. Congratulations on a great start to the season!
---
Monarchs Participate in Virtual Immersion Trip
August 21, 2021
This summer, 35 students participated in a virtual immersion trip to Central America. These Monarchs engaged in reflection and dialogue with community members from Nicaragua, Guatemala, Costa Rica, and El Salvador. The sessions broadened their understanding of justice and advocacy for people living around the world. Connecting with advocates, journalists, historians, social workers, artists, and educators inspired our Monarchs to continue to engage in justice work close to home, while always learning about the needs of all members of our global community.
---
Speech and Debate Team Competes in Nationals
August 21, 2021
Congratulations to the 12 members of our Speech and Debate team who competed at the online National Speech and Debate Tournament.This is the largest academic competition in the world with thousands of students debating current events and sharing their voices and stories. A special congratulations to senior Genevieve McKenzie for advancing to the top 60 in duo interpretation and senior Rohan Tawade for advancing to the top 30 in original oratory. Congratulations, Monarchs!
---
Monarch Named Davidson Institute Fellow
July 17, 2021
Congratulations to rising senior Adarsh Ambati, who was just named a Davidson Institute Fellow. Adarsh was recognized for his work in engineering and will receive a $10,000 scholarship for college. Congratulations, Adarsh!
---
Archbishop Mitty: Home of the Champions
July 15, 2021
Congratulations to the baseball, women's soccer, men's basketball, and women's basketball teams, which won WCAL championships this spring. A special congratulations to the women's soccer and men's basketball teams for capturing CCS championships. We also wish to congratulate these Monarchs who captured individual WCAL and/or CCS championships in diving, swimming, track and field, and men's golf: sophomore Taylor Oden; seniors Nathan Wang and Robby Griswold; and recent graduates Adam Wesson, Gemma Gallaher, and Taylor Iden.
---