Monarchs Speak Up at State Capitol
February 7, 2020
This year, Monarchs participating in MAP received an unprecedented invitation to testify on the Sacramento Senate floor about policies that could halt the alarming rise in hate crimes in our state. Juniors Priyanka Joshi, Irene Park, Raunak Dua, and Ishir Vaidyanath and seniors Kristie Park and Arushi Lahiri spoke before the assembled lawmakers. Thank you MAP for being a voice for the oppressed in the halls of power.
---
Speech and Debate Team Participates in Martin Luther King Junior Invitational
February 7, 2020
Congratulations on placing 1st out of 85 schools from across the nation for the 5th year in a row at the Martin Luther King Junior Invitational. A special congratulations to juniors Mohul Aggarwal and Aalok Patwa for becoming Policy Debate Champions, and senior Madurya Suresh for winning Humorous Interpretation, Original Prose and Poetry, and the prestigious tri-athlete award.
---
Men's Basketball Team Retires Jersey for Monarch Aaron Gordon '13
January 17, 2020
The men's basketball team retired the jersey of Orlando Magic player and Monarch Aaron Gordon '13 during halftime at their home game against St. Ignatius on January 17th in the Fien Gym. As a Monarch, Aaron helped lead the team to three league championships, four CCS Championships, and two state titles. Read more about this Monarch in The Mercury News.
---
Monarch Named Coca-Cola Semifinalist
January 7, 2020
Congratulations to senior Saumil Thakore for being named a Coca-Cola Scholar Semifinalist. He was selected for this honor from a pool of 93,000 applicants. Saumil is being recognized for his outstanding leadership, academic achievements, and dedication to the community. Great job, Saumil!
---
Monarchs Recognized by Congressman for Coding Excellence
January 7, 2020
Congratulations to sophomore Veer Doshi and junior Rayan Garg for being named runners-up in the Congressional App Challenge by Representative Ro Khanna. Each year, members of the U.S. House of Representatives run districtwide coding contests for middle and high school students. Projects are judged based on coding skills, creativity, and originality. Great job, Rayan and Veer!
---
Monarch Photo Featured in The New York Times
January 7, 2020
Congratulations to junior Sophia Alloggiamento, whose photo of a student participating in the Climate Strike held in downtown San Jose in September was published by The New York Times last month. Her black and white photo of a student holding a sign and yelling was selected from a pool of 2,200 submissions and was featured in The New York Times' second annual "Show Us Your Generation Contest for Teenagers." This nationwide photography contest asked students to share pictures that depict an aspect of GenZ that is misunderstood or unknown. In her caption, Sophia talks about a generation of youth that is working to make their voices heard.
---
Tim Brosnan Announces Retirement
December 22, 2019
After 30 years of service to the Archbishop Mitty community, President Tim Brosnan today announced his plans to retire in August 2020. Read Mr. Brosnan's message to the community here.
---
Field Hockey Claims CCS Championship
December 5, 2019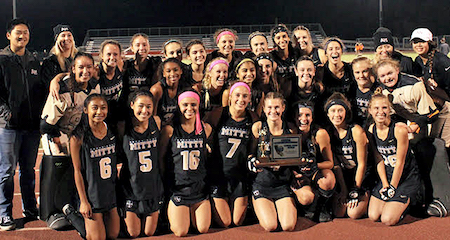 Congratulations to the field hockey team, which defeated the Los Gatos Wildcats, 1-0, to capture the CCS Championship. The victory marks the program's eighth sectional championship in school history. The Monarchs took the lead before halftime with 9 minutes and 30 seconds still on the clock. Junior Emma Vane scored the winning goal on an assist from senior Adrienne Couteau, which put the Monarchs in the lead 1-0. The Monarchs' strong defense kept the Wildcats from scoring in the second half. Congratulations Monarchs!
---
Monarchs Win Optimist International Award
December 5, 2019
Congratulating to seniors Eric Zhang and Shevali Kadakia who received Optimist International Youth Appreciation Awards for their commitment to service on campus and in the community. These Monarchs joined other award recipients from high schools in the area at a ceremony last month.
---
Mitty Advocacy Project Travels to Washington, D.C.
December 5, 2019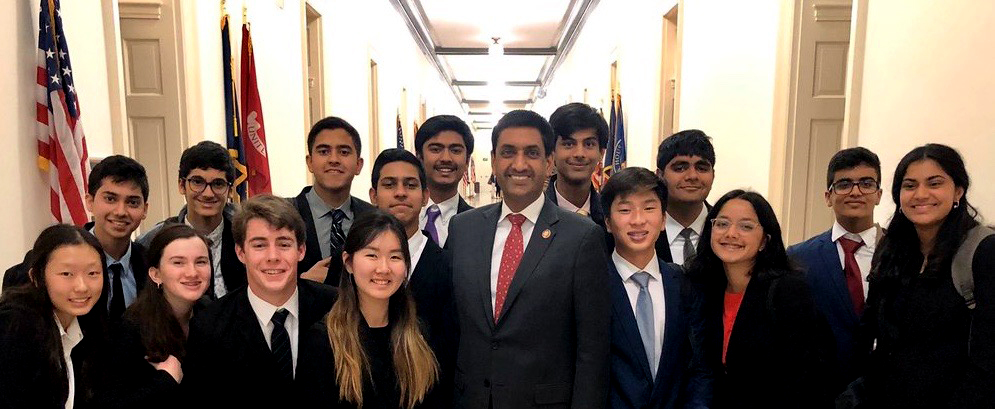 Last month, 16 members of the Mitty Advocacy Project traveled to the nation's capital in Washington D.C. to participate in the annual Tech-In for Justice, a Catholic conference focused on social justice. Monarchs shared their vision of a more just world with students from Catholic schools and colleges across the nation. These Monarchs also took that vision to the offices of our two senators and three representatives on Capitol Hill, advocating for legislation that serves the most vulnerable in our nation.
---