AMHS Hall of Fame
May 18, 2021

o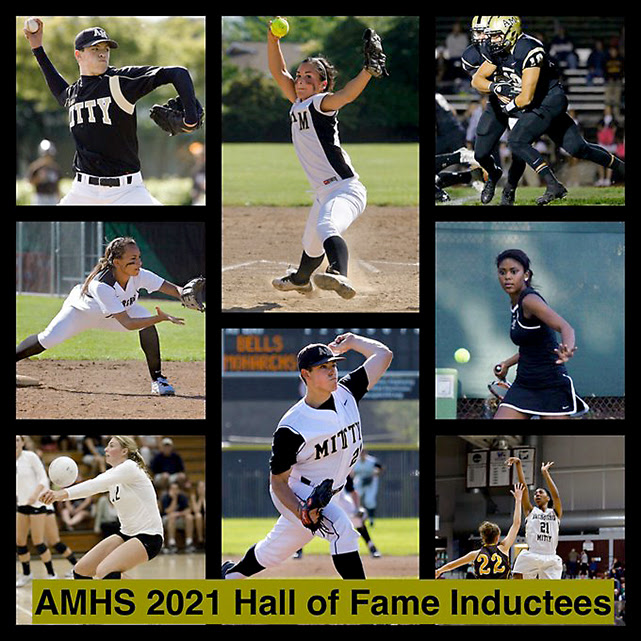 Congratulations to the eight Monarchs, who were named to the 2021 AMHS Athletic Hall of Fame class this week. All told, this class produced 21 WCAL Championships, 16 CCS Championships, 5 NorCal Championships, and 3 State Championships. Monarchs from this group are playing sports professionally, coaching on campus, and representing Team USA.
Today, we wish to honor these new inductees:
Trevor Hildenberger '09: Baseball
Kristina Graven '10: Women's Volleyball
Vanessa Alvarez '12: Softball
Kennedy Davis '13: Women's Tennis
Jazmyn Jackson '14: Softball
Chandler Ramirez '14: Football & Wrestling
Kelli Hayes '14: Women's Basketball
Kris Bubic '15: Baseball, Football
---
Women's Basketball Ranked No. 1
May 18, 2021
The women's basketball team is headed toward WCAL playoffs with a 7-1 season record. Ranked No. 1 by the Bay Area News Group, the Monarchs defeated Valley Christian and St. Ignatius last week. On Wednesday, the Monarchs beat Valley Christian, a team that had previously been undefeated in the WCAL, 74-34. Freshman Morgan Cheli made an impact with a high of 14 points and her performance was noted in The Mercury News. Senior Hunter Hernandez contributed 12 points while junior Siena Guttadauro added 11 points. On Thursday, the Monarchs had a rematch with the Warriors, who they beat a second time, 56-43. Cheli had a team high of 11 points with seniors Olivia Williams and Hunter Hernandez contributing 10 points each. This past weekend, on Saturday, the Monarchs also beat St. Ignatius, 98-42. Senior Hunter Hernandez led the Monarchs with 17 points while Williams added 16 points and Cheli contributed 15 points. Good luck the rest of the way, Monarchs!
---
Monarch Named Athlete of the Week
May 18, 2021
Senior Olivia Carlino was named the athlete of the week by the Bay Area News Group on Friday. Earlier this month, in an overtime win over St. Francis, Carlino led the women's lacrosse team with five goals and three assists plus an assist for the winning goal. Read more in The Mercury News.
---
Men's Volleyball Defeats Valley Christian, Serra in Back-to-Back Games
May 4, 2021
Congratulations to the men's volleyball team, which beat Serra once and Valley Christian twice during matches over three consecutive days last week. The team remains undefeated with a perfect 3-0 season record. Last Tuesday, the Monarchs had their first match of the season against Valley Christian, which they won 3-0 in sets of 25-23, 25-15, and 25-17. The following day, the Monarchs beat Serra, 3-0, in sets of 25-18, 25-16, and 25-20. On Thursday, the Monarchs were scheduled to challenge Valley Christian again, where they repeated a victory with sets of 25-18, 25-20, and 25-15. We look forward to watching the team continue to compete!
---
Swimming and Diving Beats Presentation
May 4, 2021
On Thursday, the women's swimming and diving team beat Presentation, 122-48. Junior Luna Balbuena had strong performances in the 200-meter individual medley and the 100-meter backstroke and won both individual races. A few Monarchs earned times that qualify them to compete at CCS.
---
Tennis Team Celebrates Senior Day
May 4, 2021
The men's and women's tennis team celebrated 15 seniors on Friday, April 30th. Recently, we featured the women's team's achievements in the newsletter. Today, we want to acknowledge the men's team. Just a week and a half ago, on Thursday, April 22nd, the Monarchs beat St. Francis, 4-3. The team's 4-2 season record included victories over several league rivals, including Valley Christian and St. Francis.
---
Women's Lacrosse Starts Season with Victory
April 28, 2021
Last week, the women's lacrosse team took the field for their first game in 13 months. The Monarchs celebrated the moment with a win, beating Menlo, 11-9, the first victory against this opponent in the history of the program. Sophomore Ella Carlino and senior Shea Allard were the MVPs of the game. Shea did an incredible job of showing leadership on the field with four goals and an assist. She was a strong midfielder, who impacted the game positively all over the field, offensively and defensively. Ella contributed critical defense with 14 saves: six in the first half and another eight in the second half, which helped secure the win for the Monarchs. Sophomores Emmy Lo and Brooke Decker provided incredible grit, energy, and determination and helped the defense keep the Menlo Knights from scoring. Finally, junior Ashley Splaine helped the Monarchs set the tone offensively and defensively and contributed two goals.
---
Softball Beats Presentation in WCAL Opener
April 28, 2021
Congratulations to our softball team, which remains undefeated with a 4-0 record! The Monarchs started their season with victories over Carlmont and Westmont earlier this month. On Wednesday, the Monarchs added a victory over Presentation, 10-1, in their first league game. Freshman Lindsey Miller had three RBIs, while junior Elon Butler had two RBIs. On Friday, the Monarchs beat Valley Christian, 8-2. Junior Jamie Hicks led the Monarchs with two home runs and three RBIs.
---
Badminton Defeats Independence
April 28, 2021
Last Tuesday, the badminton team beat Independence, 8-7. The Monarchs had a sweep, with all three varsity groups — mixed doubles, men's singles, and men's doubles — winning their matches. Junior Terrance Pai sealed the team win with a nail-biting, third-set victory, 21-16, 17-21, 21-17. Mixed doubles pair senior Briana Meng and junior Kevin Ngo had the quickest victory, topping off the mixed doubles sweep with a 21-3, 21-3 win.
---
Women's Golf Victorious Over Presentation
April 28, 2021
The women's golf team beat Presentation, 222 to 256, last Wednesday at the Spring Valley Golf Course in Milpitas. Freshman Grace Hui was the medalist for the second match in a row. Grace shot a 3 over par 36.
---